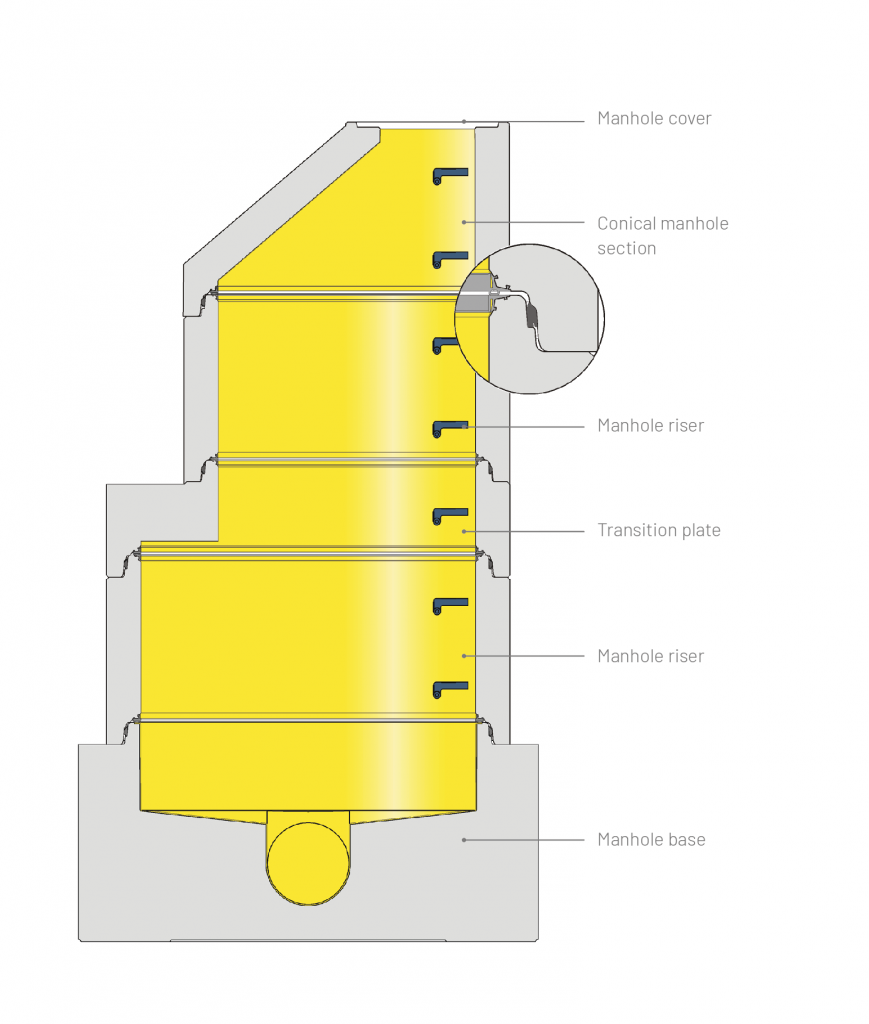 Only perfect properties fit the bill.

Absolutely leakproof, safe during inspection and cleaning, and high static load capacity. These are the unmistakable characteristics of all PERFECT manhole components.

Because every manhole structure has to withstand considerable external and internal loads. Monolithic concrete elements are therefore ideal for surface drainage, wastewater channels and mixed water channels with sufficient ventilation.
That is of the utmost importance to us.
Technology with Perspective.
Our focus is on the future—which belongs to monolithic mouldhardened manhole components.
Especially when wastewater and mixed water channels have to work without sufficient ventilation and with strongly fluctuting, seasonal minimum flow volumes. And also when local factors, such as certain industries, demand increased resistance to chemical attack in the channel.
In these instances, only one thing is needed: the right combination of suitable materials, such as the PERFECT HDPE Liner and robust concrete. The best static properties and reliable corrosion protection together meet all the requirements for durable manholes!

Logically without compromise.
Protected.
Manhole riser, cones, transition plates, and cover plates are safely protected from biogenic sulfuric acid corrosion and other chemical attacks thanks to the corrosion-resistant lining.
Durable.
The mould-hardened concrete gives the manhole components their unchanging static load capacity that lasts for generations.
Lasting. Leakproof.
PERFECT Liner Clips attached to the PERFECT Liner and embedded in the concrete ensure corrosion resistance across all joints.
Combinable.
Tried-and-tested manhole riser gaskets that meet local requirements can be used in the PERFECT Lined Manhole.
Furthermore, components provided with the PERFECT Liner can be easily combined with manhole bases and covers, which also have reliable corrosion protection.